Extreme Messenger - Add style, power, usability, and fun to AIM!
---
New Version 1.7.5 -
Fully Compatible with AIM 5.5!
Download Extreme Messenger Now
Extreme Messenger appeared in the June issue of PC Magazine!

Extreme Messenger "... gives you more control over AIM. It adds skins to IM windows, lets you give your buddies nicknames (which appear on tabs in the IM window), and, while the IM window is not in the foreground, even pops up ephemeral windows showing the text of any messages you sent. You can also set alert words; if you receive an IM containing an alert word, a window pops up."
---
Latest Versions & New Features!

Now Featuring A completely customizable Buddy List® window, Away Message Scheduler, transparent windows, conversation logging, chat color fading, enhanced AIM Today, IM skins and styles,

colorful backgrounds, fade sharing, alert words, IM pop ups, and much much more!

NEW! Works with AIM 5.5!
- Version 1.7 adds support for the newest versions of AIM! -
---
Other features include p
op up IM Messages, Alert Words, and color faded Away Messages!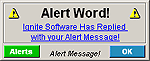 ---
All Updates are free to registered users!
---
Copyright © 1999 -2003 Ignite Software. All Rights Reserved.
| ignitesoft.com | extrememessenger.com | parent-tools.com |
AOL, AIM, and BUDDY LIST are registered trademarks owned by America Online, Inc. INSTANT MESSENGER and AOL INSTANT MESSENGER are trademarks owned by America Online, Inc. America Online, Inc. does not endorse and is not affiliated with Ignite Software or its services.